Satellites Catch China Preparing a Lightning Strike on US Navy Ships in Pacific and US Bases in Guam
This story has made the rounds before, about a year ago but then it was just a replica of an America aircraft carrier in the deserts of China. Now it appears that the Chinese have laid out many more such targets and are making their final preparations for war against the US and Taiwan. From Warnews 247.
The Pentagon and the Biden Administration are facing an unprecedented discovery. Military satellites spotted Chinese Army training in gruesome detail on long-range ballistic missiles (ASBMs) against US aircraft carriers, US bases in Japan-Guam, Taiwan and US Fleet
China has set up an entire network of model targets to prepare its Army for war with the United States. The details are creepy. The Chinese are training on precision blows at a rapid pace so as not to leave the possibility of a reaction in the US Navy.
Why the Americans released this information now is a question. They seem to have known this for a long time.
They set up an entire network with target models!
Satellite imagery shows China launching missile strikes against Taiwan, Guam and the US Navy.
According to recent satellite images, the Chinese military is improving its training on anti-aircraft missile attacks as it pursues targets that resemble aircraft carriers to smaller ships and naval bases.
Satellite images show that the Chinese have set up a training base in Xinjiang's remote Taklamakan Desert. There they have created a network of models showing a ship moored at a naval base that resembles one in northeastern Taiwan and other targets in Guam!
They train intensively on American Goals!
The US Naval Institute (USNI) news website reported that new satellite images show China building large-scale targets along the desert, including destroyer models and piers.
One of the new targets – a model of a destroyer and a pier – was built in December, just 13 kilometers (eight miles) southeast of an elaborate aircraft carrier.
The target was destroyed by a test rocket in February, according to HI Sutton, author of the USNI article.
Another similar naval base, built in 2018, about 310 kilometers (190 miles) southwest of the aircraft carrier's original layout, was found by Damien Symons, an independent defense analyst, Sutton added.
In 2017, the images appeared to show models of US bases in Japan, the military newspaper Stars and Stripes reported
NEW HYPERSONIC MISSILES WILL BE USED!
Sutton said the nature, location and strikes on the models suggest that the targets are intended for ballistic missile attacks.
China has developed at least two types of supersonic ballistic missiles, the DF-21D and DF-26.
The former is known as the "carrier-killer", while the latter was named the "Guam Express" because of its range of up to 5,000 km (3,000 miles) – enough to reach the overseas territory of the United States, which hosts a large military base.
Lu Li-Shih, a former instructor at the Taiwan Naval Academy in Kaohsiung, said he spotted a device that closely resembles the Suao Naval Base in Yilan County in northeastern Taiwan.
Materials, layout and objectives
The nature, location, and strikes at these sites indicate that the targets are intended for ballistic missile test (ASBM).
China is known to develop many ASBM missiles. Two types, the DF-21D and DF-26, are fired from ground platforms. The H-6 bomber carries another missile, hitherto unknown. And there is now confirmation that the Renhai Class cruiser Type-055 can launch a smaller one, temporarily identified as the YJ-21.
Damien Symon said there were signs of advanced targeting.
"The order of the goals is very calculated," he said . "Orientations, shapes and sizes are consistent with many goals. "There is nothing accidental in these models."
The targets appear to be formed by placing metal sheets on the ground.
"This is different material from piers and buildings ," adds Symon. "It may reflect heat or radar differently, it may also give us an indication of the complex systems and effort behind these experiments."
The target of the naval base that was destroyed in February was similar to the one found by Symon. It's almost a copy of the older goal, he said.
Targets in Taiwan – Who will hit
"I tried to compare [the layout] of US naval bases in Yokosuka and Sesabo [in Japan] and Subic Bay [in the Philippines], but the naval port of Suao is the one that bears the most similarity, " Lu said. The target ship in the model is the Kidd class destroyer at the Taiwanese naval base.
"The model and exercise plans suggest that the Chinese Navy warships are simulating precision strikes to hit targets at both the Guam naval base and the military port of Suao with the YJ-21 anti-ship missile."
Collin Koh, a researcher at the S Rajaratnam School of International Studies at Nanyang University of Technology in Singapore, said US aircraft carriers, amphibious teams and concentrations in Guam, the advanced military hub outside the first island, are target for the People's Liberation Army missiles of China.
Suao is a strategic port designed to keep Taiwan's access to maritime supply chains open in times of war, so Koh said the port would also be a high-priority target for Chinese missiles.
"The PLA will launch its wartime missile strike targeting Taiwan's main facilities – including not only air bases, command and control centers, warehouses but also naval bases," he said.
"Suao is located on the east coast of Taiwan, and has a certain degree of strategic depth, it is less vulnerable than Keelung which is another key hub of the Taiwan Fleet. "Keelung is located on the west coast just opposite the strait and therefore most exposed to PLA missile strikes."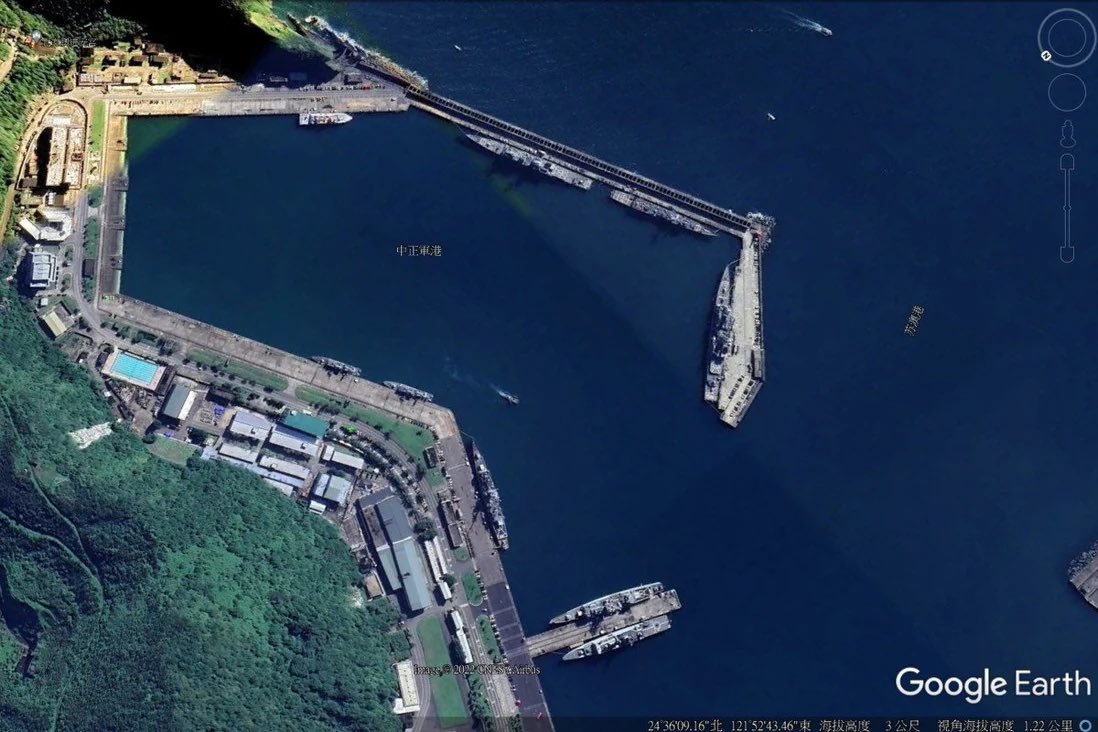 You can support this ministry and keep us on the internet using the links below. Patreon is gone so we have PayPal and Cash App left to us below. We have also added a new monthly support option through the website. That link is below as well. Thank you again and God bless!
Monthly Support Option: https://dontspeaknews.com/donations/
PayPal Link: https://paypal.me/johnnystorm
Cash App ID: $jstorm212