First Russian missile "Direct Hit" in NATO country with dead: Activation of Article 4 of NATO is requested by Poland – USA is numb
From warnews247 in Greece. Translated to English for your convenience.
The first "Direct Hit" in the history of NATO was caused by Russia with at least two dead and an American Pentagon being called upon to manage a major crisis that it probably did not expect.
The Americans appeared numb to the development. Unofficially American officials report that it is a Russian missile attack, officially the Pentagon "does not confirm" and is making efforts to gather the situation.
But according to information, Poland will request the activation of Article 4 of NATO, which in the future may bring developments within Ukrainian territory…
At the same time, the Polish government announced that it is putting the Armed Forces on high alert.
A US official recently told Politico that the explosion in Poland was caused by a missile attack or an errant missile and "not" by missile debris. The Ministry of Foreign Affairs of the Czech Republic said the same based on the information it had.
A second US official told NBC it was unclear whether the Russian missiles hit Poland on purpose or by mistake. That is the point at this stage.
The first video from the site of the explosion shows a crater that only a direct missile hit could have caused. Therefore, the scenarios about Ukrainian S-300 anti-aircraft missiles or debris from other missiles that fell in the area do not hold true…
In addition, the two missiles fell in the region of Prezevoto 70 km from Lviv and 23 km from Volyn where the Russians were bombing. It is not possible that the deviation of both Russian missiles happened at the same time and they both fell in the same place.
At the same time the editor-in-chief of RT was writing "Good evening, 1962" a direct reference to the Cuban Missile Crisis that happened in 1962.
He also noted:
"Now Poland has its own Belgorod region". Russian Belgorod is frequently hit by Ukrainian missiles.
Pentagon: "We will defend every bit of NATO territory"
During the Pentagon spokesman's press conference in the US, there was no confirmation that these were Russian missiles. However, it was emphasized that the country will defend " every bit of NATO territory".
"In such situations there are many alternatives for how to act. But first we need to confirm the situation (that these are Russian missiles).
We have no confirmation at this time and are looking at the reports we have in hand. We take it very seriously, however, and we are checking it," the Pentagon spokesman added.
A senior US intelligence official said, according to the Associated Press, that Russian missiles fell in NATO-member Poland, killing two people.
Polish government spokesman Piotr Mueller did not immediately confirm the information, but spoke of an emergency meeting due to a "crisis situation".
The US Pentagon is also on a wait-and-see basis, which is currently unable to confirm the information about two Russian missiles that ended up on Polish soil, stressing, however, that it is looking into the specific reports.
"We are aware of press reports that two Russian missiles hit a site inside Poland near the border with Ukraine. I can tell you that we currently have no information to confirm these reports. We are looking into the incident," Pentagon spokesman Patrick Ryder said.
The incident came after Moscow launched a barrage of more than 100 missiles into Ukraine, plunging much of the country into darkness. In fact, some of the strikes reached Lviv, which is about 70 kilometers from the Polish border.
The Russian Ministry of Defense denies any involvement
The Russian Foreign Ministry says that Russia has nothing to do with the attack on Polish soil. There was no Russian missile attack "near the Polish-Ukrainian border".
"This is a deliberate provocation of Western propaganda."
Here is the full announcement of the Russian Ministry of Foreign Affairs, which speaks of provocations:
"Statements by Polish media and officials about the alleged fall of "Russian" missiles in the area of ​​the settlement of Przewoduv are a deliberate provocation to escalate the situation.
There were no strikes against targets near the Ukrainian-Polish state border with Russian means of destruction.
The fragments published by the Polish media from the scene in the village of Przewoduv have nothing to do with Russian weapons."
The point is that we are not talking about fragments only, but about a crater…
First strike in a NATO country
If the information is officially confirmed, it will be the first time there has been a death on NATO soil as a result of a Russian missile strike.
NATO Secretary General Jens Stoltenberg, as well as leaders of NATO member states, have repeatedly argued that the 30 members will defend and protect every inch of their territory in response to Russia's invasion of Ukraine.
"We must not make the mistake of underestimating Russia. The Russian armed forces still possess significant capabilities, as well as large numbers of troops, and Russia has shown a willingness to suffer significant casualties. They have also shown extreme brutality ," Stoltenberg said just yesterday, when asked about the withdrawal of the Russians from Kherson.
Reactions of Latvia, Hungary, Estonia, Czech Republic
Latvia's defense minister, in a tweet, expressed his condolences to "our Polish brothers", saying:
"The criminal Russian regime launched missiles that not only targeted Ukrainian civilians but also reached NATO territory in Poland. Latvia stands by our Polish friends and condemns this crime."
Hungarian officials also announced that the Defense Council will be convened, as government spokesman Zoltan Kovacs announced via Twitter.
The Ministry of Foreign Affairs of Estonia, for its part, said:
"The latest news from Poland is worrying. We are in close consultation with Poland and other allies. Estonia is ready to defend every centimeter of NATO territory. We stand in full solidarity with our close ally Poland."
Zelensky argued that Russia's attack on Poland is a blow to NATO's collective security and called for action.
Zelensky said that " Russian missiles hit Poland, that is, they hit NATO territory."
"I tell my Polish brothers that Ukraine is with you and will always support you. Victory is possible when there is no fear."
Lithuania is on the same wavelength.
"Disturbing news from Poland this evening of at least two explosions. We are in close contact with our Polish friends. Lithuania expresses its solidarity with Poland. We must defend every inch of NATO territory."
The Czech Defense Minister considers reports of missiles hitting Poland to be "confirmed". He was informed about this by the Chief of the General Staff of the Czech Republic.
"Soon we will know if it was a mistake or an act of provocation. All parties are now trying to quickly investigate this, including the exact type of missiles involved."
"We consider that the impact of the missiles is proven, because today there was also a meeting with the Polish Chief of the General Staff in the context of the V4, who moved away and deals with the situation in Poland"
"The situation is currently being assessed. I consider it an escalation of the situation, even if it was a mistake. And even if it was unintentionally intentional, we will all perceive it as an escalation of the conflict," the Czech Defense Minister emphasized.
The point of the missile attack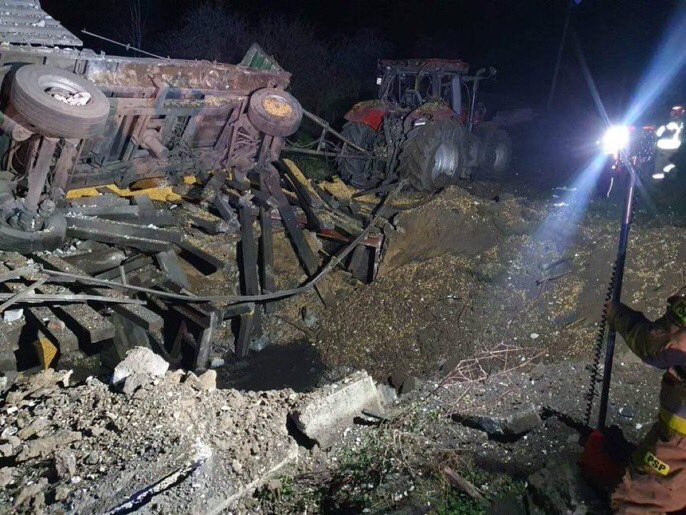 Link to post in Greek: https://warnews247.gr/proto-rosiko-pyravliko-direct-hit-se-natoiki-chora-me-nekrous-energopoiisi-tou-arthrou-4-tou-nato-zita-i-polonia-moudiasmenes-oi-ipa/
You can support this ministry and keep us on the internet using the links below. Patreon and PayPal are gone so now we have Cash App and Buy me a Coffee as our online options. The new buy me a coffee link is below.
Cash App ID: $jstorm212